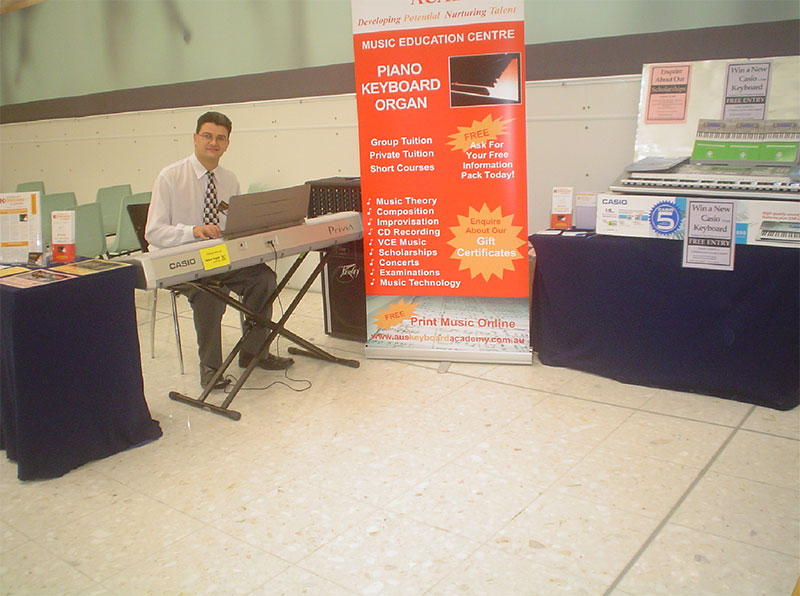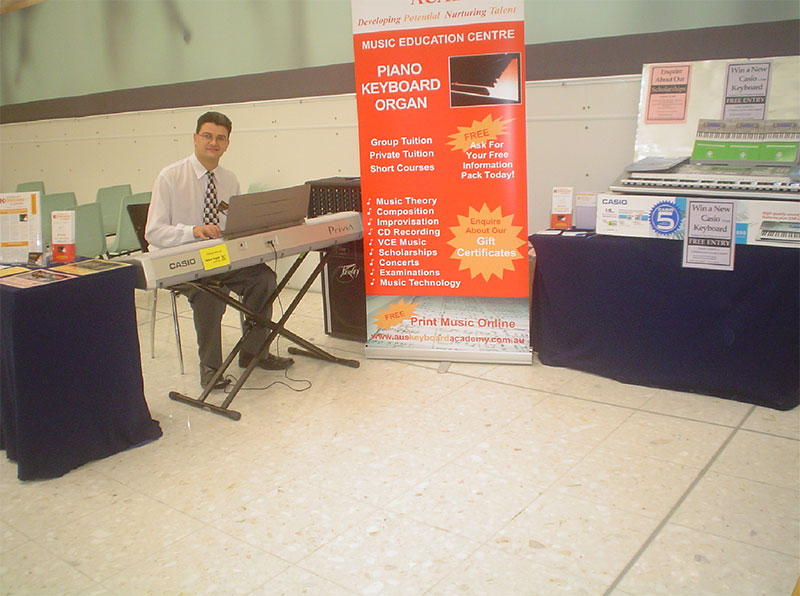 The Australian Keyboard Academy enjoyed six days at Watergardens Shopping Centre, participating in the January school holiday program.
I spoke to many parents and children who were inquiring about music education. Shoppers were also entertained with live music performances throughout the day.
Shoppers also had the opportunity to enter a competition to win a Casio CTK800 keyboard valued at $299.95, courtesy of Casio Australia. This created much interest with entries from all over Melbourne. Congratulations to Mr. Grozdanouski from Taylors Hill who was the winner of the Casio CTK800 keyboard. Mr. Grozdanouski has three young children, the Casio CTK800 Keyboard will provide a lifetime of enjoyment for the Grozdanouski family.
A highlight of the week was when I was invited to participate in the Humphrey B Bear show. I held the keyboard for Humphrey to play. It was amazing to see his paws playing the keyboard. All the children were impressed too.
The display at Watergardens provided an opportunity for me to communicate with the local community and listen to their needs and concerns in relation to music education in  Melbourne's Western Region.
I am looking forward to working with the local community in raising awareness in the benefits music education can play in children's lives and the need for all in the community to have access to music education.
I would like to especially thank Elaine Dunstone and Lena  Sinopoli from Watergardens Centre Management, Jarred Finnigan from Casio Australia and all involved in assisting to make it possible for the AKA to participate in the School    Holiday Program at Watergardens Shopping Centre.
AUSTRALIAN KEYBOARD ACADEMY YOUR CASIO REPRESENTATIVE & DEMONSTRATOR
The Australian Keyboard Academy is proud to be your Casio representative and demonstrator for Melbourne's Western Region.
Parents and students now have the convenience of purchasing their Casio keyboard and digital piano directly from the Australian
Keyboard Academy. Don't run around all over Melbourne, order your Casio from AKA and pick it up at your next lesson.
Lorenzo can assist you to purchase the right keyboard or digital   piano   for  your  child's learning needs.
AP – CELVIANO
88 Keys Hammer Action

CTK – KEYBOARDS
61 Keys Touch Response

PX – DIGITAL PIANO
88 Keys Hammer Action

WK – WORKSTATION
76 Keys Touch Response
With years of experience both teaching and working as a professional musician you can be assured of expert advice. All Casio keyboards and digital pianos have a 5 (five) year warranty.
AUSTRALIAN KEYBOARD ACADEMY NEW RESOURCES & FACILITIES
The Australian Keyboard Academy is committed to providing first-class resources for students. With the recent purchase of five new Casio PX410R Digital Pianos and new R.LIPP & SOHN Gold Series 175S Grand Piano. Facilities include:
Grand Studio: R.LIPP & SOHN Gold Series 175S Grand Piano (Arriving in April).
Casio Digital Piano Laboratory: Five Casio PX410R Digital Pianos 88 Key Hammer Action.
Music Technology/Recording Room: Two fully equipped computers with music software, two 76 keys, professional samplers/workstations, two 61 keys, keyboards, CD recording facilities and a PA system.
Grand Studio A: An organ with two 61 keys, keyboard and two octave pedal board.
Music Library: A comprehensive collection of piano/keyboard/organ music from classical, jazz, popular, rock and latin music, a wide-range of classical scores and music theory texts.
Foyer: a waiting room for students and parents which can comfortably seat 10 people.
GRAND STUDIO

GRAND STUDIO A

MUSIC TECHNOLOGY RECORDING ROOM

FOYER

CASIO DIGITAL PIANO LABORATORY
ARE  AMEB GRADES  A  "TICKET"  TO TEACH INSTRUMENTAL MUSIC?
In Issue 2 Spring/Summer newsletter I wrote about the misuse of the Australian Music Examination Board (AMEB) grades within the music teaching profession. Another concern is the misunderstanding within the industry that AMEB grades and other similar examining bodies are a substitute for tertiary music qualifications.
For decades the private music teaching sector in Australia has been, and still is, an unregulated industry. Anyone can proclaim themselves an instrumental music teacher outside of mainstream education. Many private instrumental teachers also misrepresent music examination grades such as the AMEB as a qualification, "a ticket" to teach music. A common statement within the industry is that, "as long as you (the teacher) have a grade higher than your student you can teach them". This is simply not true and I strongly recommend parents to think twice before placing your child into the responsibility of individuals that express these views. The issue is not the ability to play their instrument (although important) but the teaching ability and no AMEB grade provides training in the pedagogy of music.
This lack in the ability to regulate the instrumental music teacher has provided a window of opportunity for many unskilled and untrained individuals to work as instrumental music teachers both within the private sector and mainstream education. Many schools in Australia outsource  instrumental music tuition from private organisations which subcontract instrumental teachers with little or no formal qualification in music or  music pedagogy. Many of these organisations base their employment criteria on the premise that individuals should have a grade 5 AMEB grade or equivalent.
It is important that parents, educators and government authorities take greater interest in the quality and standard of instrumental music teaching and learning that is taking place in our schools. The fact that no laws govern the quality of instrumental music teaching in Australia may be why many children "give up playing by the end of primary school" (ABRSM, 2000, cited in Pascoe et al 2005:21).
This is disappointing because according to Howard Gardner's philosophy "everyone is born with potential to develop some degree of musicality, provided they have the right experience at the right time" (Bridges 1994). Research advocates that the most important years of musical development is the primary years and it is imperative that the best possible music programs and qualified music educators are teaching our primary aged children.
Bridges (1969) states that, "all music teachers need to have a clear philosophy of music education, otherwise they cannot teach with conviction" (68). You would not take your child to an unqualified dentist, nor should you expect anything less from your instrumental music teacher.
2005 National Review of School Music Education – Part 3
The review presented a number of key findings from the international literature relating to  instrumental music tuition and students'  learning habits. Below are some of the key findings:
"The Australian Music Association found almost a third of those who learn an instrument cease to play before they become teenagers, and a further 30% drop out by the age of 15 years" (AMA, 2001, cited in Pascoe et al, 2005:21).
"It is unlikely that a child would start learning an instrument at all if s/he has not started playing by the age of 11" (ABRSM, 2000, cited in Pascoe et al 2005:21).
"If children have not started to play an instrument or have already given up playing by the end of primary school, they are unlikely to begin playing an instrument at secondary school" (O'Neill et al., 2001, cited in Pascoe et al., 2005:21).
"Outsourcing instrumental music tuition is an option for some schools. As with those teaching music within school systems and sectors, maintaining quality of teaching is an issue within out-sourced provision of instrumental music services" (Pascoe et al, 2005:126).
Educators in Australia need to highlight the importance of ensuring first-class music education is available to all primary school aged children. The responsibility must not rest solely on the private instrumental teacher or in out-sourcing instrumental music services.
The future of music education in Australia starts in primary schools. Our Government, community, music industry stakeholders and music educators must work    together to ensure that all primary aged children have access to   quality music education provided by qualified teachers with        importance placed on music pedagogy. If not, music education will continue to be exploited.
Top 10 Tips Preparing For Your Music
Examination
1. Ensure you have plenty of rest days before your exam.
2. Establish a solid practice schedule months in advance.
3. Determine repertoire months or even years in advance.
4. Know your technical exercises from memory.
5. Do not leave the aural component till the last few lessons, make it part of your weekly lesson and practice schedule.
6. Have a few mock exams at the time of your actual exam. So if it's 9am, practice your exam at that time and more than once.
7. Arrive early and warm up, bring your own water.
8. Dress and present yourself appropriate to performance etiquette.
9. Practice with your accompanist in advance.
10. Perform your exam piece when possible in public or in front of family and friends on more than one occasion.
All the best!
Selecting A Music Teacher For Your Child: A Check List
Listed below are some important points for parents to consider when selecting a suitable instrumental music teacher:
□ Post secondary music qualifications (not AMEB grades)
□ Teacher's personal philosophy on music education
□ A curriculum that focuses on student interests (not solely syllabus oriented)
□ Resources and facilities
□ Opportunity for music creativity and composition
□ Ear-training and singing (solfege)
□ Group performance and group learning
□   Teacher's commitment to continual professional development & research in music pedagogy
□ An enthusiastic approach and life commitment to music education
□   Provides an environment for excellence with classes that are fun and foster growth
STUDENT PROFILES