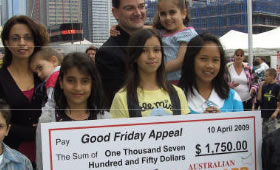 On the 8th of August, the Mozartini Orchestra performed two shows in front of a delighted audience on centre stage at Highpoint Shopping Centre. The audience was wowed with their renditions of ABC, I want you back and Tik Tok and the children's confidence soared with all of the applause. During this concert we saw the debut of two young guitarists, brothers, Patrick and Cameron Johns. They did a fantastic job and we can look forward to more guitarists joining the orchestra in future performances.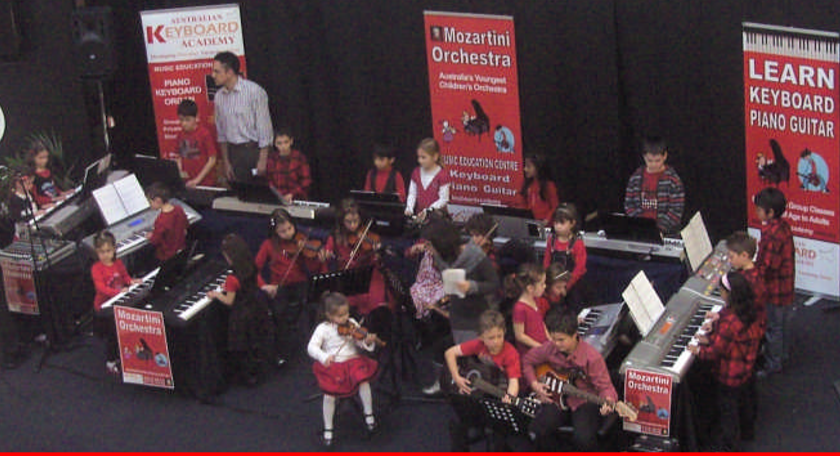 KAWAI JUNIOR PIANO COMPETITION 2010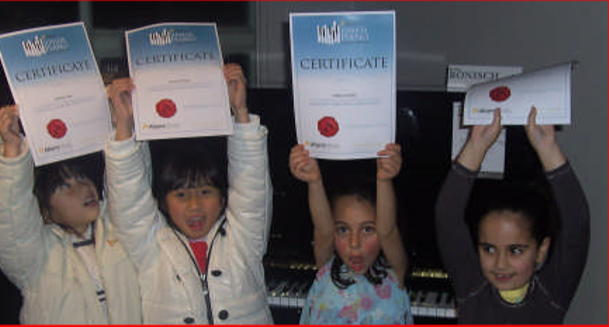 Smith Family Fundraising Concert 2010
September is concert time again and the Smith Family will surely benefit from the fundraising efforts of our young students who performed this year at our Charity concert. It was great to see more guitar students performing, some for the very first time. They have been working hard and their efforts were showcased during their fantastic performances. All of the students who performed did an outstanding job and the Australian Keyboard Academy raised $800.00 for underprivileged children in the Brimbank community bringing our fundraising total to date for the Smith Family to $3,005.00 since 2006. Congratulations to both Joshua Machuca and Jeremy Boland for their performances of the own compositions. A huge thankyou to all those who helped to make this years concert a great success. Special thanks to Taylors Lakes Hotel – Starlight Centre, Retravision, McDonalds Caroline Springs and Delahey and Brimbank City Council for their support. Next fundraising concert will be for the Good Friday Appeal 2011.
guitar teacher Matthew Ng with students Micaelo and Brittany

group photo with performers from the 2pm concert
BROADMEADOWS SHOPPING CENTRE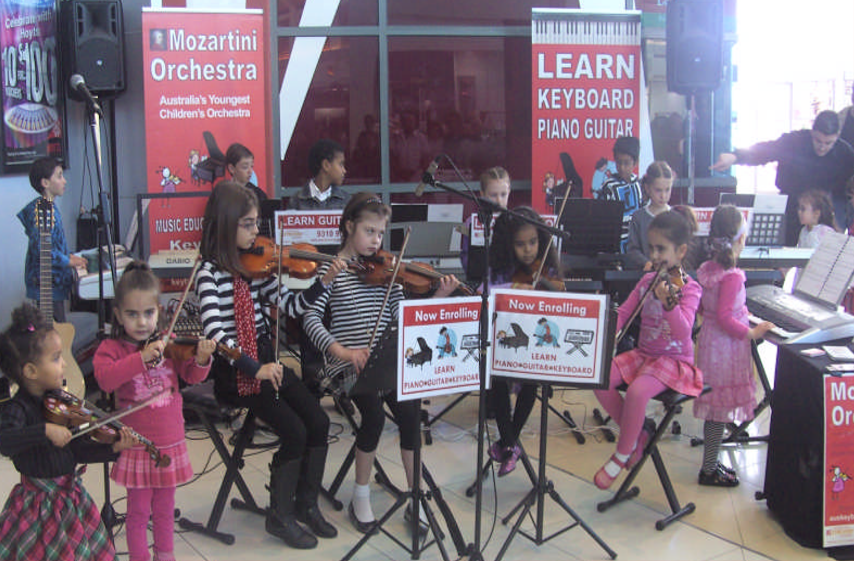 The Mozartini Orchestra played at an exciting new venue on the 27th June at Broadmeadows shopping centre. Large crowds gathered around the performers and were amazed by their musical ability. Youngest performer on the day was Seinna Mesghun 2 years of age playing the violin. Centre management were impressed by their performance and we can expect more shows to be held their in the future.
P Plate Piano Courses
The Australian Music Examination Board (AMEB) is a well known and highly regarded body who conduct music examinations for variety of instruments including piano and guitar. The AMEB are now offering non-graded external assessments where at the conclusion of each level the candidate will perform a selection of pieces selected by their teacher and will be awarded a certificate. This is an informal introduction to exam studies and can provide invaluable experience for students who intend to prepare for music exams in the future. For further enquiries call our office or speak to your teacher.
STUDENT ACHEIVEMENT
Congratulations to all of the students who completed their music exams in 2010.
| | | |
| --- | --- | --- |
| Michica Tofinga | Sara Draca | Olivia Capitanio |
| Hazel Tan | Jarrod Eeles | Sean Fenech |
| Teodoro Panova | Gabrielle Fetalvero | Dylan Nguyen |
| Jeremy Boland | Joskun Celebioglu | Ethan Cornwill |
| Jeslin Johnson | Benson Jong | Mina Mickhail |
| Natali Coric | Rohan Jacob | Alberto Szymanis |
| Monique Dennehy | Monica Mikhail | Vince Gigliuto |
| Michaela Duma | Vanessa Liao | Mary Kadar |
| Olivera Crngarov | Charlyze Raimundo | Nardeen Saad |
| Michelle Phan | Jessica Crngarov | Michelle Barba |
| Emily Phan | Athalia Munsamy | Ishanka Fernando |
| Joshua Machuca | Ly Thi Nguyen | |
ADULT EDUCATION – PIANO & GUITAR CLASSES
The most significant trend in musical education today is the rapid growth of mature age persons learning a musical instrument. Many adults feel some apprehension at the aspect of learning music, however after the first lesson the old cliché "I'm too old to learn" is forgotten. It is a fact that adults learn more thoroughly than children do (slower maybe) but retain the knowledge longer. Research tells us that activities such as learning and playing music (piano for example) helps keep our minds active and shows improvement in overall health. The effect on older people particularly in group piano and guitar classes has a positive effect on the ability to cope with the stress of retirement and older age. The Australian Keyboard Academy adult piano and guitar programs provide a supportive environment, a shared responsibility for learning and a social network for other like-minded individuals. Further details call our office on 9310 9532.
MUSICTHEORY CLASSES
What is music theory?
Music theory is the grammar of music, how music works, the building blocks of music notation, composition and creativity.
Who is music theory for?
All students that learn a musical instrument need to study music theory. It is recommended that once students have completed their preliminary music exam they begin their studies in music theory, as it provides students with a greater understanding in the music they are learning and in the comprehension of musical notation.
The AKA are now taking enrolments for music theory classes. Once students have completed the requirements for each music theory grade they have the option to sit for their music theory exam. For further information call our office on 9310 9532.