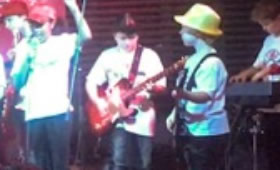 Congratulations to Time Out on an awesome performance of the "School of Rock" theme song at the Melton Fast-track grand Pinal on Saturday the 19th of May. A special mention to Kristine Marasigan who received 2nd placing. The evening was Pilled with outstanding young talents. All 13 children were fantastic and a big thank you to the parents for their commitment and time in assisting me in getting the Band together. Special thank you to Christine Wojcik for designing and organising the "Time Out" logo & T-shirts.
You're in the Band!
All Music Education Academy (MusicEA) Students are encouraged to participate in the MusicEA Rock School Band, "Time Out" and the MusicEA Orchestra, "Mozartini Orchestra". Both the Time Out and Mozartini Orchestra are free and provide extra performance opportunities to all our students. Its a great way to encourage young musicians to learn and perform music together.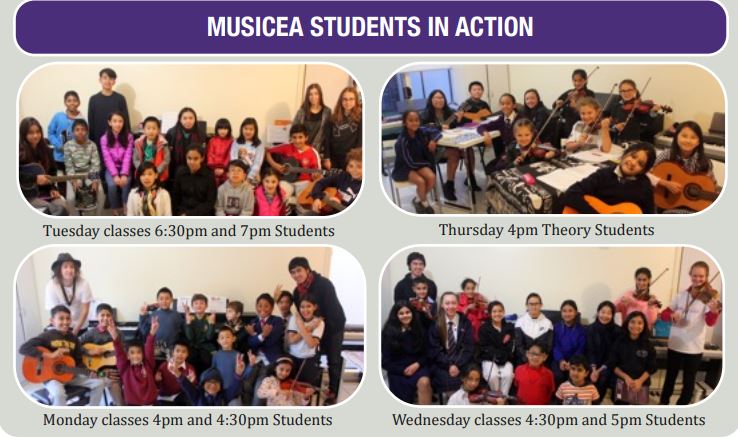 Kinder Piano Classes
The MusicEA have a dedicated pianokeyboard program for pre-schoolers aged 3 to 5 years. Our program is the only kind in Australia which includes the opportunity for pre-schoolers to perform in the Mozartini Orchestra, "Australia's Youngest Children's Orchestra". Call 9310 9532 to arrange your child's free trial lesson.
Student Stoplight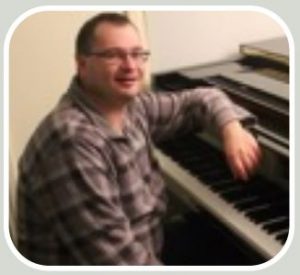 Adam Kaucki is currently  studying grade 7 piano and  grade 6 theory. Music allows Adam to express a range of emotions and feeling. When
not preparing for music exams Adam works as an Orthoptist. In his spare time Adam enjoys the footy (Go Bombers!) and playing card games with family and friends.
Congratulations Adam, Olivera and Jessica on 10 years at MusicEA
Sisters Olivera and Jessica Crngarov are both currently preparing for their grade 8 piano and grade 4 theory exams. Jessica is currently in year 12 at Lakeview Secondary College and Olivera is studying a Bachelor of Radiation Science at Monash University. Both are passionate dancers who have competed their Cecchetti Ballet exams. In their spare time they work at McDonald's and Olivera teaches piano at MusicEA. Sisters Andrea and Erin Bazar are both currently preparing for their grade 1 piano exam. They attend Hillside Primary School and enjoy singing, dancing, drawing and playing table tennis.
Alic-Henry White started learning piano in term 1 this year. He attends Jackson's Special School and enjoys  playing Minecraft and watching Wallace and Gromit.
Sisters Maya and Aleksandra Jazierski attend St Paul's  Catholic Primary School. Maya enjoys dancing, singing, LEGO, and learning about dinosaurs.
Aleksandra enjoys singing, reading and swimming.
Singing Students Jonnes Wodya, Erika and Sophia Troung started in term 1 this year. Jonnes attends Cana Catholic PS and enjoys singing, dancing, and dreams of becoming an artist and composer. Erika and Sophia attend St Bernadette PS. They enjoy drawing, watching YouTube, reading, travelling and shopping.
Mozartini Orchestra Blast From The Past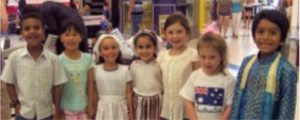 Above: Mozartini Orchestra Performance at  Federation Square Sunday 28 June 2015. Left: Mozartini Orchestra Performance at Keilor Centro 2008. The Pirst group from left: Noah Mesghun, Vanessa  Liao, Rebecca Galea, Olivia Capitanio, Olivia Di Cocco,  Briana Stewart-HatPield and Rohan Jacob.
The Truth About Music Exams

A common question from parents is, "When is my Child ready for their ^irst music exam?" There are Pive truths to this question. Truth No.1: Positive daily practice habits need be established at home (30-60minutes) along with
appropriate dedicated practice area. Truth No.2: Children today are over commitment with many other extra curricular activities and simply Pinding the time after school to practice may be challenging for many families.

Truth No.3: Preparing to undertake music exams is a long term goal setting activity and requires sacriPice and commitment on a daily basis and may not be suited for all music students. Truth No.4: If students are not prepared to practice scales and technical exercises daily, preparing for music exams may not be suited for them. Truth No.5: Success in music exams as with any skill based activity is "The sum of small efforts repeated day in and day out" (R. Collier).


Ameb 100th Anniversary

It was a privilege to have been invited to the morning reception at Government House to celebrate the 100th anniversary of the Australian Music Examination Board (AMEB) on Tuesday 15 May. Congratulations to all at the AMEB Victoria on a wonderful ceremony


Get Your Free Copy