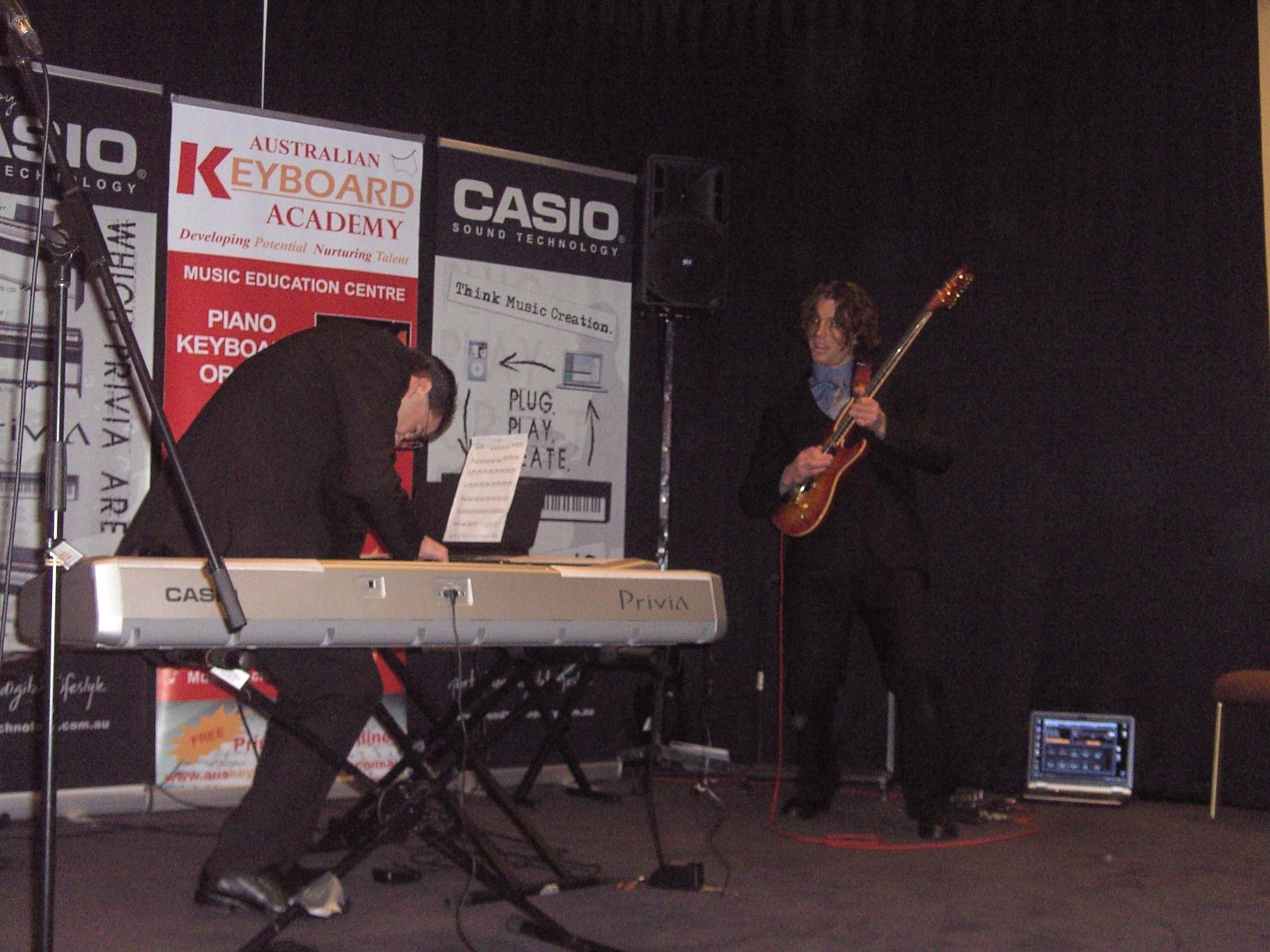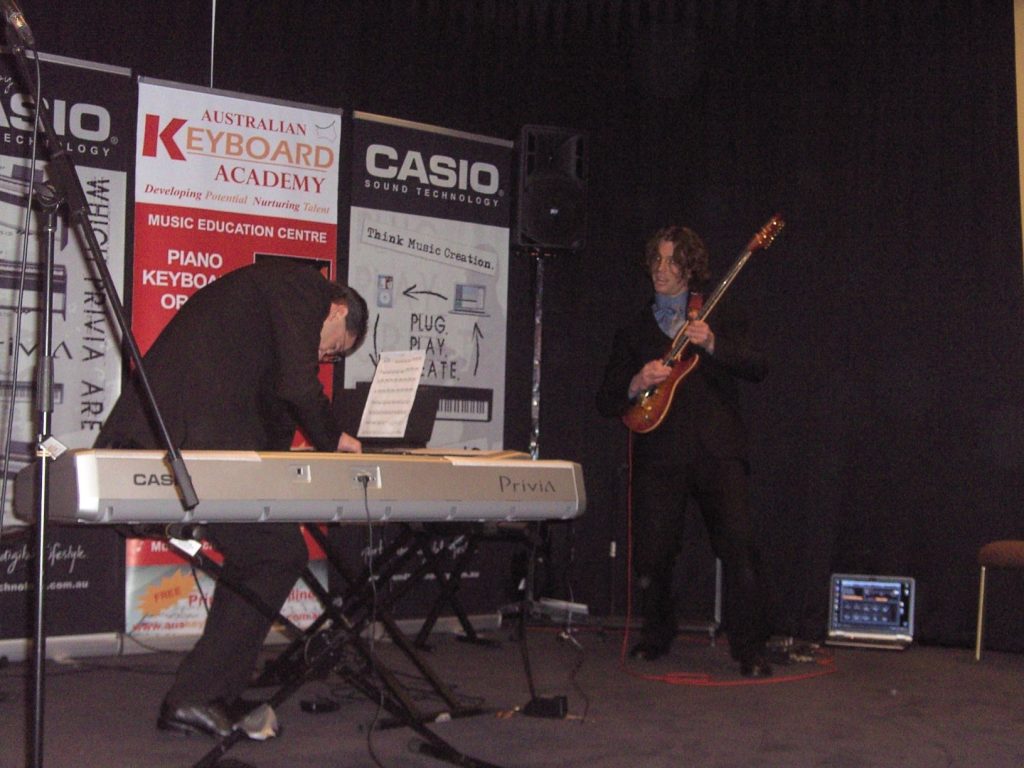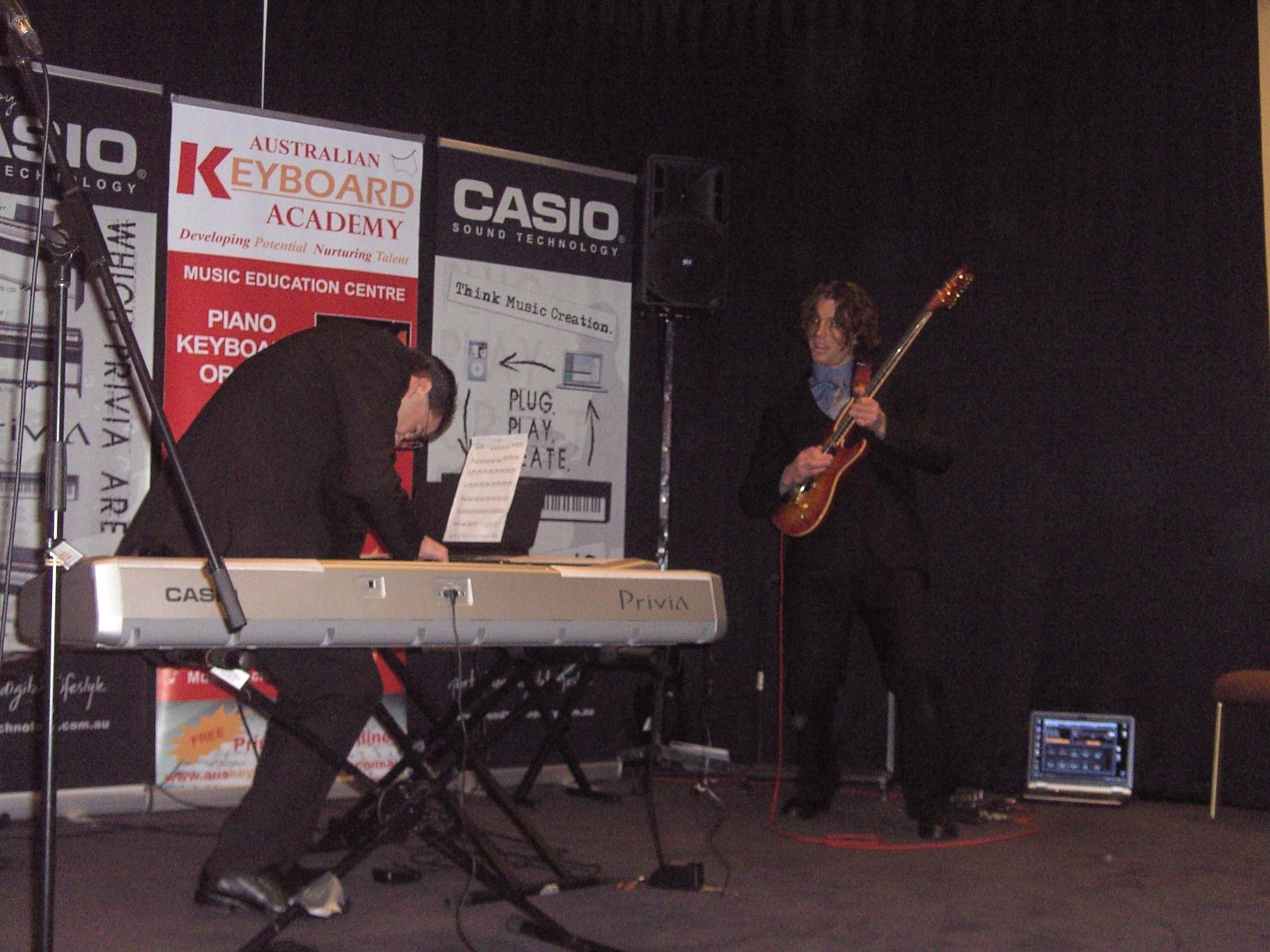 The wait is over!
Learn guitar at the Australian Keyboard Academy. Guitar tuition is available for all ages and students have the option of group or individual tuition along with preparing for music examination. Students are also encouraged to perform and work together with other guitarist and piano/keyboard students within the Academy. Guitar tuition will commence in term 4 under the direction of guitarist and music educator Mr Scott Jolley.
Scott has been performing professionally since 2000 and has developed a strong reputation amongst folk and fusion music communities in Australia.
Scott's formal training includes a Bachelor Degree of Music in performance from Box Hill Institute where he also won multiple awards for academic excellence.
Scott is in high demand both as a guitarist and guitar teacher throughout Melbourne and Geelong. Scott is also author and developer of fusiontranscriptions.net a resource website for fusion musicians worldwide.
The Australian Keyboard Academy warmly welcomes Scott's expertise in the field of guitar education.
For further information regarding guitar tuition please contact our office on 9310 9532.
MOZARTINI ORCHESTRA @ HIGHPOINT SHOPPING CENTRE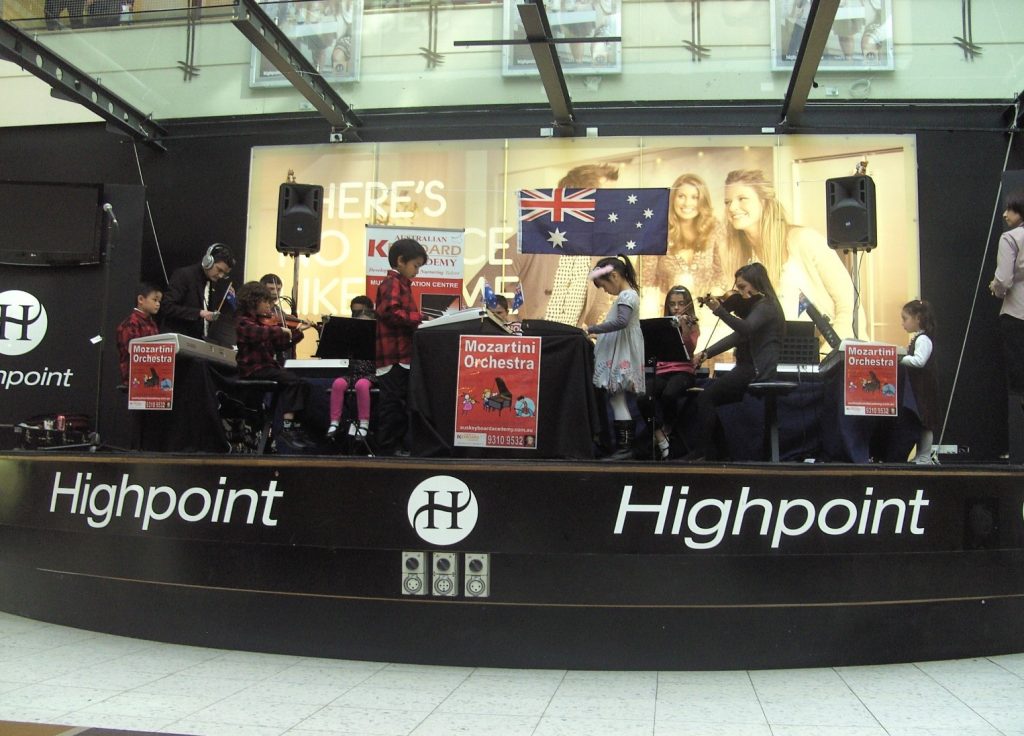 On Sunday the 9th of August the Mozartini Orchestra performed for the first time at Highpoint Shopping Centre. Hundreds watch the amazing young orchestra perform famous tunes like Waltzing Matilda and the Australian National Anthem. The Orchestra performed their "Australia Show" at 2pm and 3pm. The second performance included musicians as young as three years of age. Both performances attracted audiences in the hundreds and from all accounts it was enjoyed by all, many commenting on the amazing young talent. The Mozartini Orchestra is considered the youngest children's orchestra in Australia with musicians aged between 3 to 8 years of age. For further information regarding the Mozartinti Orchestra visit their website www.auskeyboardacademy.com.au/mozartini_orchestra.
MOZARTINI ORCHESTRA @ BRIMBANK CENTRAL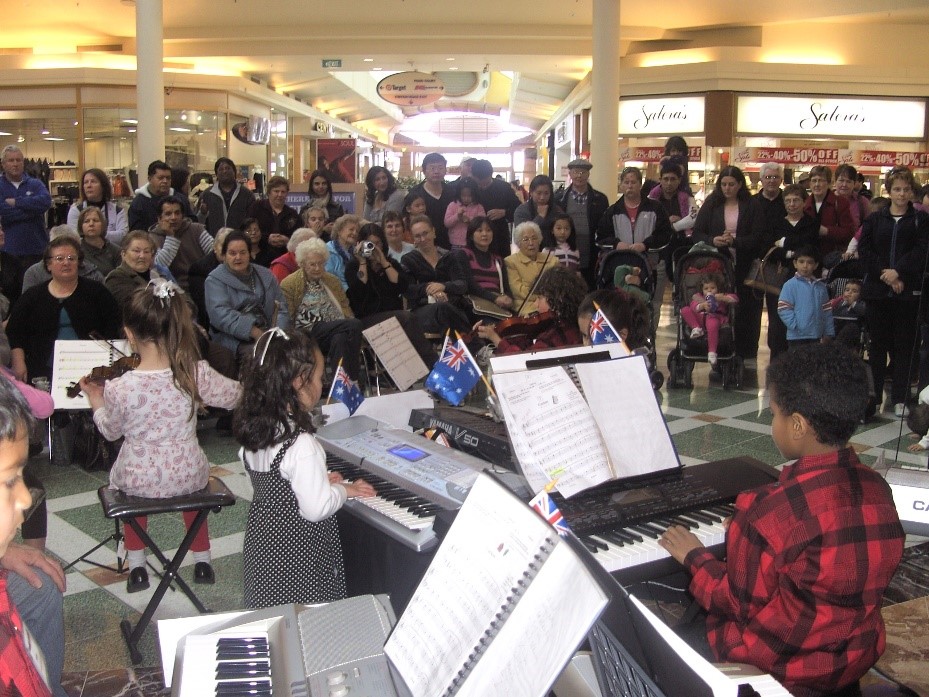 CASIO CHALLENGE 2009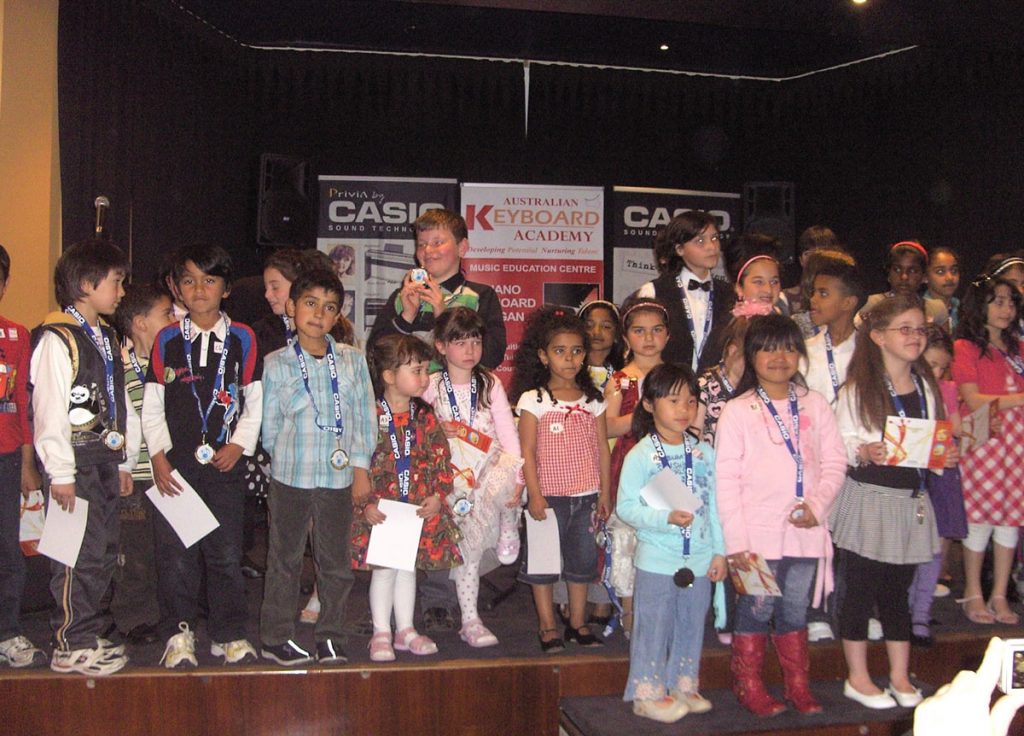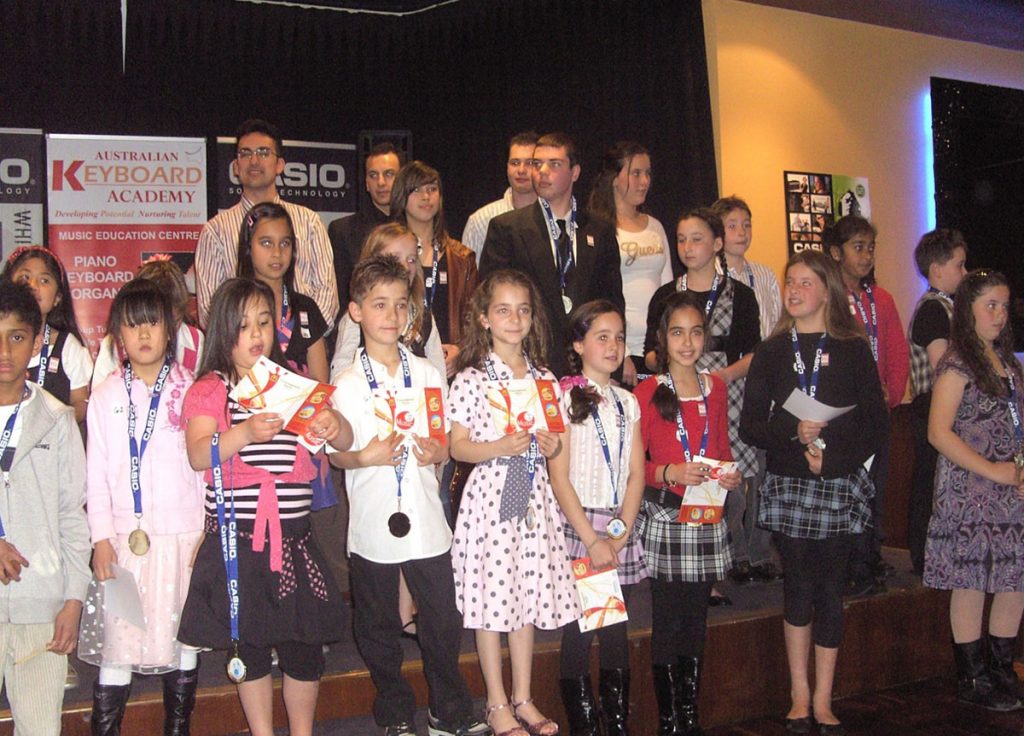 Congratulations to all the performers at the 2009 Casio Challenge held on the 13th of September. Almost 100 students performed throughout the afternoon. The concert was a great opportunity to celebrate music education in children's lives along with raising money for local charity The Smith Family. A total of $670.00 was raised on the day to assist the Smith Family to provide education scholarship for local students attending Brimbank Primary School. This is the third fundraising concert for the Smith Family and in total the AKA have raised a grand total of $2,205.00 this is a wonderful effort, thank you to all involved.