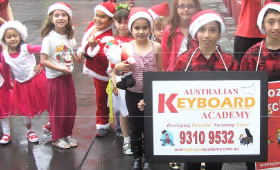 VISION STATEMENT
The Australian Keyboard Academy empowers its students to achieve their fullest potential.
Through our Mozartini Orchestra, fundraising concerts, music examinations, student of excellence performance program and commitment to work with the local community, students are provided with a platform to develop leadership, confidence and their overall academic performance.
LEARNTO PLAYTHEVIOLIN
Learn violin at the AKA. Violin tuition is available for students of all ages. Students have the option of paired or individual tuition. The Academy is delighted to announce Rachel Dalton as Head of Strings. Rachel is currently completing her music Degree at Monash University and has undergone all graded AMEB examinations for violin. Under Rachel's direction students have the option of preparing for music exams and are encouraged to perform and work together with other guitarist and piano/keyboard students within the Academy. For further information contact our office on 9310 9532.
GOOD FRIDAYAPPEAL CONCERT RAISED

Thank you to all involved with the 2011 Good Friday Appeal fundraising concerts. A total of $1,000.00 was raised and over the past four years the Australian Keyboard Academy have raised a grand total of $5.250.00 for the Good Friday Appeal. This is an outstanding effort. Congratulations to all the performers and the Academy look forward to your performances at our next fundraising concert for The Smith Family on September 18th. Full details on page four. Contact our office to register on 9310 9532.
WHAT MAKESTHEAKA UNIQUE?
Teachers
Professional Music Educators
Teacher Training Program and Mentoring
Our Music Programs Cater For All Age Group
Piano For Little Mozarts (3 – 5 years of age)
Children & Teenager Music Programs
Piano, Keyboard, Guitar, Violin Classes (6– 17 years of age)
Adult Piano & Guitar Music Education Programs
Music Examinations
Many of our students undertake two music exams pre-calendar year and have the option of performing in two annual fundraising concerts.
Fundraising Concerts
Two annual fundraising concerts
Good Friday Appeal
The Smith Family
Performance Opportunities
Our students are invited to perform at:
Brimbank and Funtasia Festival
Highpoint Shopping Centre
Brimbank Central Shopping Centre
Keilor Centro Shopping Centre
Watergardens Shopping Centre
Sunshine Hospital
Royal Children's Hospital
Royal Melbourne Hospital
McHappy Day McDonald's Delahey
Numerous other public venues of interest

Mozartini Orchestra
The heart of what makes our Academy special is the Mozartini Orchestra, Australia's Youngest Children's Orchestra. The Mozartini Orchestra consists of students from the Academy as young as 3 years of age.

Students of Excellence Performance Program
Fosters formal concert performances for students that demonstrate a high level of musicianship, technical virtuosity, commitment to their music studies and that demonstrate excellence within their age group.
STUDENT OF THE YEAR 2011

Congratulations to the 2011 Junior Student of the year recipients Jessica Crngarov, Sara Draca and Micaelo Castellon and the 2011 Senior Student of the year Jeslin Johnson. All students have demonstrated ongoing commitment and dedication to their music studies. There were eight students who earned an award for Most Outstanding Student of the Year and all have consistently worked hard and shown outstanding development and progress. Congratulations to Mark Thompson, Chiara Carrivale, Katelyn Le Toille, Vanessa Liao, Joshua Lee, Nathan Lee, Gabrielle Fatelvero and Monica Michail. Overall, the Academy would like to congratulate all the students at the Australian Keyboard Academy for a rewarding year of music learning.
PIANO & VIOLIN FOR LITTLE MOZARTS
One of the most frequent questions the Academy receive from parents is "At what age can my child start to learn the piano and violin?" A. 3 years old. The Academy is proud to be able to provide the opportunity for all in the community to experience learning music. From our Children & Teenage piano-guitar-violin programs and Adult piano-guitar programs the Academy have a dedicated music program for pre-schoolers aged between 3-5 years of age. Piano & Violin For Little Mozarts is the only kind in Australia which includes the opportunity for students to perform in the Mozartini Orchestra, "Australia's Youngest Children's Orchestra". Call our office on 9310 9532 for more information or to book your free trail lesson.
LEARN MUSICTHEORY
All students that learn an instrument need to study music theory. It is recommended that once students have completed their preliminary music exam they begin their studies in music theory, as it provides students with a greater understanding in the music they are learning and in the comprehension of musical notation. To book your music theory class call our office on 9310 9532.