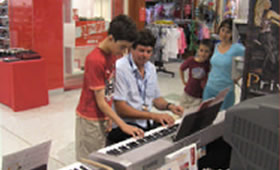 From the Good Friday Appeal Fundraising Concert held in March which raised $1,500.00 for the Royal Children's Hospital. Left Adam Kaucki (19), centre Jakob Kaucki (6), right Laura Tassone (9).
Proudly Supporting The Cancer Council of Victoria
For further information regarding performing at the fundraising concerts, supporting the fundraising concerts and ticket sales contact AKA on 9310 9532.Preparations are under way for the second fundraising concert for 2008. After the success of the Good Friday Appeal concert in March, Australian Keyboard Academy (AKA) students are ready to go at it again!
The concert will raise money for the Cancer Council of Victoria a charity organisation that support people through their cancer experience.
All AKA students are encouraged to perform and the AKA welcome other music students living in Brimbank to perform. The concert is an excellent vehicle to showcase the local talent and hard work students put into the music.
BRIMBANK LOCAL NEWSPAPERS REPRT
"AKA warms up for the Good Friday Appeal fundraising Concert. The theme of the concert will raise money for the Royal Children's Hospital, is celebrating music education in children's lives and the community".
J. Houghton, Brimbank Advocate Newspaper, 26 Feb 08, p1.
"Kids to burst into tune. Young Brimbank musicians will feature their talents for charity at three concerts this year".
Brimbank Leader Newspaper, 26 February 2008, p18.
"Students urged to help with appeal. Brimbank music students are being urged to perform at a fundraising concert".
Brimbank Star Newspaper, 19 February 2008, p10.
"Music the key to helping out. Disadvantaged children in Brimbank will benefit from fundraising efforts by the AKA".
K.. Poh, Brimbank Star Newspaper, 16 October 2007, p8.
"Concert for a cause. AKA students will perform at a concert in Delahey to raise money for disadvantaged children in Brimbank".
Brimbank Advocate Newspaper, 16 October 2007, p22.
"Notes for the needy. Young musicians in Brimbank will start in a charity concert this month to raise money for local needy children. Proceeds from the Piano-Keyboard Fundraising Concert will go to The Smith Family appeal to buy stationary packs for disadvantage young people".
K. Cameron, Brimbank Leader Newspaper, 16 Oct 07, p55.