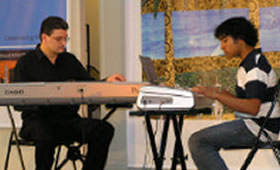 Australian Keyboard Academy students receiving their performance awards at the Casio Challenge in Melbourne 2007. Congratulations to all performers, for many their first public performance.
Congratulations to everyone who performed at the first Casio Challenge held in Melbourne on the 28th of July. It was a wonderful afternoon enjoyed by all.
A big thank you to Mike Kelly from Billy Hyde Music Blackburn, adjudicator Ms Sonya Visser, Casio Challenge coordinator Bradley Eustace, Melba Conservatorium of Music and Casio Australia for sponsoring and running the Casio Challenge in Melbourne.
With over 40 performances from Australian Keyboard Academy students, the Casio Challenge will become an annual performance event.
However, such an event is not possible without the support from parents and commitment from students, and for this I would like to thank both parents and students.
For all the results of the Casio Challenge in Melbourne and throughout Australia visit www.casiolink.com. This site also provides over 200 support pages on getting more out of your Casio Musical Instrument. See you all next year at the 2008 Melbourne Casio Challenge!
NEW GRAND PIANO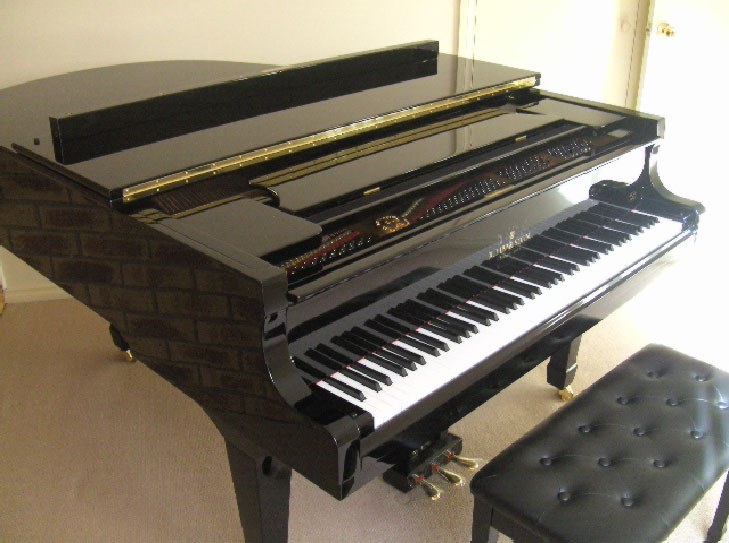 After some unforseen delays the new R.Lipp & Sohn Gold Series 175S Grand Piano arrived in July. Situated in the Grand Studio the R.Lipp & Sohn piano will bring years of musical creativity and enjoyment for all students at the Australian Keyboard Academy.
FUNDRAISING CONCERT
Supporting children in Brimbank
The Australian Keyboard Academy (AKA) and Copperfields Family Centre are hosting a Piano – Keyboard Concert to raise money for The Smith Family. All proceeds raised will assist The Smith Family to provide stationery packs for disadvantage children living in Brimbank.
The Concert is an opportunity for students from the AKA to perform and demonstrate to their families, friends and the local community their achievements and accomplishments along with raising money to support other children in our local community. The concert will feature students from as young as 3 years of age.
If you are unable to attend and would like to make a donation, donations can be made at Copperfields Family Centre during business hours. To book your seat and for further information call 9310 9532.
If you would like to donate an item for a raffle or know a local business that would be interested in donating their service/product for a raffle please contact Lorenzo on 9310 9532. We look forward to your company.
Olivia Capitanio 1st place
award Casio Challenge July 2007

Laura Tassone, Annie Ho & Natali Coric 1st place award Casio
Challenge July 2007.

Liam Mercieca 1st place award Casio Challenge July 2007.

Jane Hoh 2nd place award Casio Challenge July 2007.
MUSIC THEORY LESSONS
The study of music theory has been voted by many music students as the second most important area of music education, second only to the study of their instrument.
Music theory is the study of musical grammar, investigating the way music is composed.
Having dedicated three years of research into students attitude and perception in learning music theory, I personally believe it is vital for young music students to begin their studies in music theory as soon as they can.
Through my research I have been able to successfully present the study of music theory to students in an easy to understand manner.
In the early stages the study of music theory will benefit students with their music reading skills, music terminology and the basic rudiments of music, which are fundamental when learning to play a musical instrument.
The Australian Music Examination Board (AMEB) publish two series of music theory teaching texts, the more recent "Music Craft" and "Theory of Music". Through the AMEB syllabus students can undertake both practical and theory examinations. It is a prerequisite that students undertake specific music theory grades in order to gain certificates for their practical grades.
Commencing next year will be music theory classes for students. More information regarding music theory classes will be published both online in November and in the next issue of the AKA Newsletter in December. In the meantime if you would like further information regarding the AMEB examination process I can be contacted on 9310 9532 (Lorenzo).
ASME 2007 Conference Perth
The XVI Australian Society For Music Education (ASME) Conference and Exhibition held in Perth 6-10 July was an amazing event. Over 170 papers, workshops, concerts, and over 400 International and Australian registrations from people involved in music education, community music and the music industry. I attended over 30 presentations with a number of presenters discussing the importance of promoting music education in the wider community.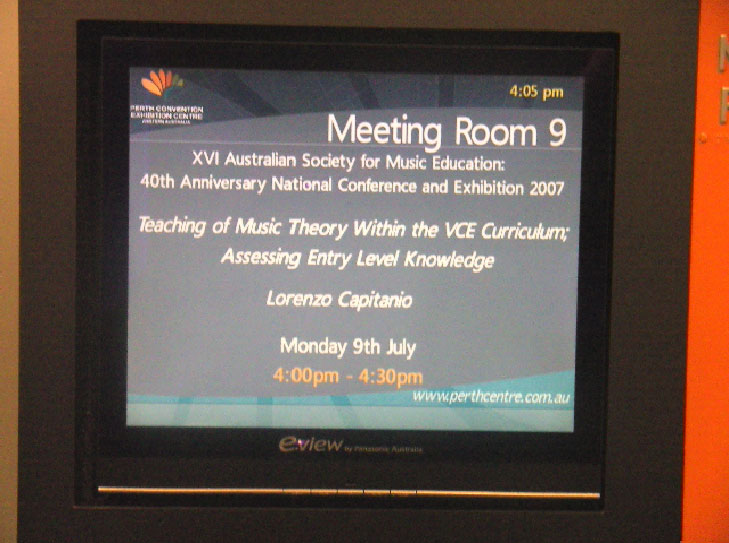 STUDENT PROFILES
Chantelle Fandino 2nd Place award Casio Challenge July 2007.

Jane and Jolie Hoh 1st place award Casio Challenge July 2007.

Jayme Atiomme-Diaz 1st Place award Casio Challenge July 2007.

Jeevan Jega 1st place award Casio Challenge July 2007.

Jena-Maree Marino 1st place award Casio Challenge July 2007.

Melissa Bodilly & Cassandra Razmovska 1st Place award Casio Challenge July 2007.

Natali Coric 1st place award Casio Challenge July 2007.

Polly & Darcy Tamer 2nd place award Casio Challenge July 2007.

Rebecca Galea 2nd place award Casio Challenge July 2007.

Sean Fenech & Ethan Cornwill 1st place award Casio Challenge July 2007.

Vanessa Liao 2nd place award Casio Challenge July 2007.

Xuanson On 1st place award Casio Challenge July 2007.
EFFECTIVE PRACTICE MAKES PERFECT!
In Issue 4 Winter-Spring I wrote about how much practice is enough and tips on encouraging your child to do their music practice. However, it is important that the time spent practicing is spent productively. Below are some key considerations in planning effective practice outcomes.
Effective Practice Makes Perfect!
1 – Schedule: Children require routine, establishing a set daily practice schedule/routine is the key to ensuring long term commitment and success in music education.
2 – Time: Time spent practicing is very important, see Issue 4 How much practice is enough. Try breaking up your practice into two sessions, morning and afternoon.
3 – Priority: The value you place on music education will play a key role in the commitment you make to your music studies and also the commitment you make to assist your child with their music practice.
4 – Goals: Have daily and weekly goals with each practice session and make them achievable.
5 – Rewards: Always reward yourself for your accomplishments. Create a culture promoting:"rewards come from commitment and hard work".
Guide to Effective Practice – Schedule 1