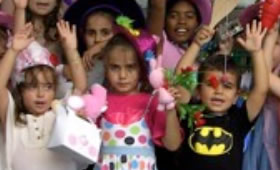 Students of Excellence
The first in a series of formal concerts the Students Of Excellence Performance Program has hit a high note. Showcasing some of Australian Keyboard Academy's finest students in an hour long recital program, residents at the Aveo Retirement Village in Sunbury were entertained with music from Bach to Mozart in the beautiful and intimate surroundings on a grand piano. Held on Sunday afternoon on the 6th of November the program began with Jessica Crngarov (student of year 2011) performing three works including a virtuosic rendition of Flamenco Dancer.
Kami , Shane , Fayeand Wayne Schowalter each performed their exam repertoire with control and attention to musical detail. Olivia Capitanio performed Minuet and Ghost Ship on violin accompanied by her father and three solo works on piano including the dazzling Allegro. Olivia's young brother Jayden only three years of age, the youngest performer on the day, played a variation of Twinkle Twinkle Little Star on violin.
The program concluded with Olivera Crngarov performing Gallop Final and
Mozart's popular Concerto Number 21. Special thanks to Mary MacKinnon,
Vero Village Manager, for the opportunity to use their wonderful venue for our concert and to all the performers. If you would like your Child to be
involved in the Students Of Excellence Performance Program please speak to your teacher. For bookings please call our office on 9310 9532.
Mozartini Orchestra An Icon in Brimbank
The Mozartini Orchestra has established itself as an icon in Brimbank.
Now regarded as "Australia's Youngest Children's Orchestra" with musicians as young as 3 years of age, the Mozartini Orchestra has performed at every major community event in Brimbank. In 2011 the Mozartini Orchestra performed over 25 events with over 70 shows. Show highlights included
Brimbank Festival in March (Cultural Diversity Week), Good Friday Appeal
Fundraising Concert in April , Watergardens Shopping Center in October (Community Safety Week), Funtasia Festival in October (Children's
Week), Watergardens Shopping Centre in November (Santa Parade), Sacred Heart Annual Fair in November, and the Christmas performances in December at, Brimbank Central, Caroline Springs Shopping Centre, Keilor Centro and Sunshine Hospital.
The Academy would like to thank all the students that participated in the
Mozartini Orchestra events in 2011 and also thank their parents for their support and commitment. If you would like your Child to get involved with the 2012 Mozartini Orchestra events please speak to your teacher or contact our office on 9310 9532. Music For Little Mozarts The Academy is proud to be able to provide the opportunity for all in the community to experience learning music. In addition to regular music programs for Children, Teenagers and Adults, the Academy have a dedicated music program for pre-schoolers aged between 3 to 5 years of age. Piano, violin and guitar for little Mozarts. Our program is the only kind in Australia which includes the opportunity for students to perform in the Mozartini Orchestra, "Australia's
Youngest Children's Orchestra". For further information call our office on 93109532.
2011 Fundraising Concerts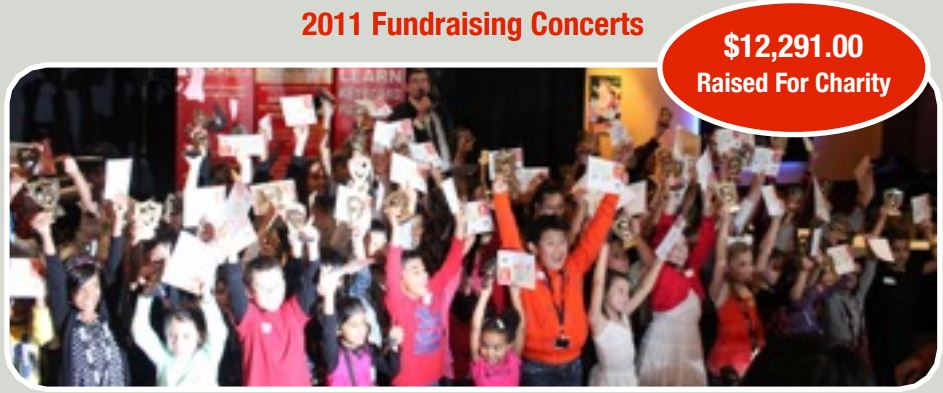 Thank you to all involved with the 2011 fundraising concerts. From both concerts in 2011 a total of $1,840.00 was raised. Over all, the Academy has raised a grand total of $12,291.00 for charity in the past five years. This is a tremendous effort, congratulations to all the performers. Don't forget to register for the 2012 fundraising concerts call our office on 9310 9532 for details and registration forms.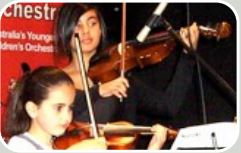 Olivia and Sandra performing a duet at the Fundraising Concert.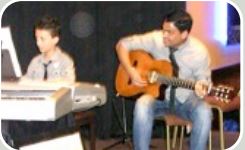 Jayden and his Father Steven performing at the Fundraising Concert.
Mission Statement
The Australian Keyboard Academy empowers students to achieve their fullest potential through music. The Academy is committed to continuing the involvement with local communities with the Mozartini Orchestra, Students of Excellence Performance Program and Fundraising Concerts. These public performances provide students with a platform to develop confidence and positive self-esteem leading to academic excellence.
Learning A Musical Instrument
Learning a musical instrument is never an easy task. The biggest challenge is time and commitment. Time to bring your Child to their scheduled music lesson each week and then the commitment to assist your Child with their music practice every day. Learning to play a musical instrument is a life-long commitment and one of few activities which demand attributes such as patience, goal-setting and perseverance. The Academy recommend that students create a practice routine schedule. A time each day where students make time for their music practice. This could be early morning, after school, before or after dinner or even a specific time each day. Developing positive practice habits is also important for students that intend to undertake music examinations. Music is one activity where children who dedicate their childhood to learning a musical instrument will benefit them for life. Current research suggests that Children that learn a musical instrument out perform their classmates that do not learn music in maths and other academic areas of study.
Student Achievements 2011
Congratulations to all 70 students that undertook their music exams in 2011. This year the AKA had its youngest student undertake her first piano exams, 6 years old Alexandra Wood. It was certainly an exciting year for Alexandra, she achieved an honours (A) and started Prep at School. Another outstanding achievement was Gabrielle Fetalvero achieving a high distinction (A+) for her 1st grade piano exam and Micheala Duma achieving a high distinction (A+) for her 5th grade piano exam. Michaela keeps herself very busy with her music studies also undertakes exams in violin, flute and music theory. The music theory class also achieved outstanding results with their third grade written exams all achieving high distinctions with Jeslin Johnson receiving an almost perfect score of 98%. An other special mention to Sasho Petroviski who completed his VCE music solo performance. Music exams were not only limited to Children. Three of our adult students also undertook their piano exams. Well done to Ms Ly Nguyen, Mrs Rita Borg and Mr Patrick O'Hara. The AKA proves its never to early or late to start learning a musical instrument!
Student Of The Year 2011
Congratulations to Jeslin Johnson Senior Student of the Year 2011 and to Jessica Crngarov, Micaelo Castellon and Sara Draca, Junior Student of the Year 2011. There were eight students who were awarded Most Outstanding Student of the Year, Mark Thompson, Chiara Carrivale, Katelyn Le Toiile, Vanessa Laio, Joshua Lee, Nathan Lee, Gabrielle Fatelvero and Monica Michail. All students have demonstrated ongoing commitment and dedication to their music studies. Over all, the Australian Keyboard Academy would like to congratulate all the students for a rewarding year of music learning.
NEWS & NOTICE BOARD
Term One Commences
Term One commences Wednesday 1st February. For full list of term dates please visit our website.
2012 Music Examinations
Dates for 2012 exams are now available form your teacher. It is parents responsibility to ensure exam forms and fees are received by the due date to avoid late payment fees.
Free Student Workshops (FSW)
The Academy provide free student workshops for all students throughout their academic year. The FSW are a great exchange for when student are unable to attend weekly class. Dates and times for FSW are posted on the notice board in the foyer.
Fundraising Concert Series 2012
The 2012 fundraising concert series is set to be bigger and better than ever. To register your child to perform at either of the two fundraising concerts for 2012 please speak to your teacher or contact our office on 9310
9532.
Concert One
Charity: Good Friday Appeal
Date: Sunday 25th March 2012
Time: 2:00pm
Concert Two
Charity: The Smith Family
Date: Sunday 16th September 2012
Time: 2:00pm
Concert Venue:
Starlight Centre, Taylors Lakes Hotel
Address: 7 Melton Road, Taylors Lakes
Melway Ref: Map 14A1
AKA Teachers
The AKA is proud to offer a diverse range
of ten specialist music educators. We believe
your Child will have a rewarding music learning
experience under their guidance.
Saint Cecilia Children's Choir & Orchestra
New for 2012 is the Saint Cecilia Children's Choir and Orchestra. The aim of the Children's Choir & Orchestra is for Children to learn, play and sing liturgical music at local Brimbank Church Services. If you would like your Child to participate please contact Lorenzo on 9310 9532.
Brimbank Festival 24 March 2012
The AKA will be participating in the Brimbank Festival on the 24th March. To get involved in either of the three daily events, 1) 10am Stage Show, 2) 11am Parade, or 3) Daily Performances from 12-4pm, please speak to your teacher or contact Lorenzo on 9310 9532.
Musical Instrument Sales
The AKA is the place for all your musical needs. Students can purchase Casio digital pianos, keyboards, beginner guitars and violins, instrumental accessories and an extensive range of music books for piano, keyboard, guitar and violin. Call our office for monthly specials on 9310 9532.
Teaching Hours
Monday to Friday: 9:30am to 10:00pm
Saturday: 8:00am to 4:00pm
Office Hours – Call 9310 9532
Monday to Thursday: 1:00pm to 3:00pm Phone is unattended when teachers are conducting classes please leave a message and your call will be returned within 24 hours.